High school seniors honored for enlisting in the military
May 16, 2023
/
/
Comments Off

on High school seniors honored for enlisting in the military
https://www.postandcourier.com/moultrie-news/news/high-school-seniors-honored-for-enlisting-in-the-military/article_64e358f6-ef57-11ed-af3e-17511412424e.html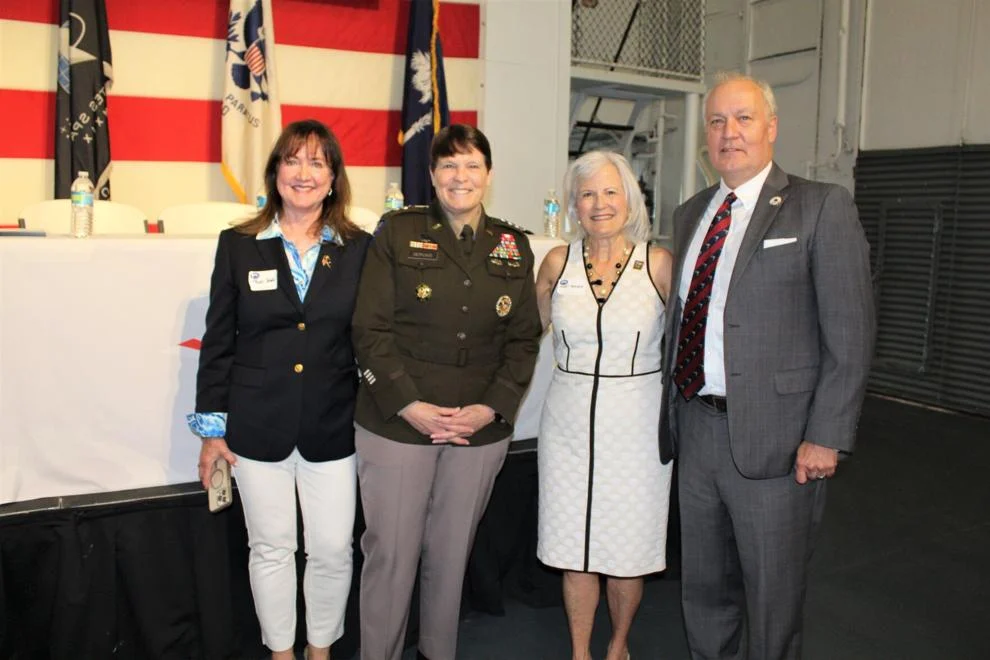 The Our Community Salutes — Lowcountry SC High School Enlistee Recognition Ceremony honored over 50 graduating high school seniors in the Charleston, Berkeley and Dorchester counties, who plan to enlist into the military immediately after high school graduation. The honorees gathered on the USS Yorktown on May 3 for a special ceremony.
These seniors represent just one percent of all high school graduates across the country. This event was one of over 70 held in local communities across 28 states in the U.S. this spring.
The program, Our Community Salutes (OCS), was founded 15 years ago by an Army veteran, Dr. Ken Hartman, who felt these students were to become the next generation of patriots and deserved to be recognized.
"Today more than ever, our nation's newest and youngest service members need to know that their community and their country stand behind their decision to serve our nation. College-bound seniors and Division 1 athletes get much recognition. For our nation's military-bound seniors, this is their signing ceremony," said Hartman.
This was the first time an OCS event was held on the historic USS Yorktown. Over 250 people including family, veterans, active-duty recruiters, school educators and community leaders were in attendance, along with local, state and national leaders. The Patriots Point Foundation (PPF) hosted this event, along with the Palmetto Military Support Group and numerous community and Veteran Service Organizations.
Mary Regner, PPF's event chairperson summarized the event saying, "The Lowcountry came together to honor our future heroes in a spectacular way. The honorees and their recruiters proudly marched into the ceremony while the Parris Island Marine Band played patriotic songs. Corporal Kyle Carpenter, USMC, retired, and Medal of Honor recipient was the keynote speaker whose remarks reinforced the reason for serving our country in uniform. Carpenter spoke of the need to do one's best every day and live up to the standards of your service branch with pride in what you are doing for your nation."
Lieutenant General Maria Gervais, U.S. Army, issued to them the oath of enlistment. She motivated the seniors and reassured the parents of what the military experience will offer their sons and daughters in the way of personal growth, job skills and leadership opportunities.
Mayor Will Haynie welcomed the audience to Mount Pleasant and reminded the enlistees "that our community is wishing them a heartfelt farewell and that we will be here to welcome them back to our shores when their tour of service is completed," he said.
The Lowcountry is home to thousands of veterans and their families from all branches of service who start new careers at local businesses for many years, after their service to their country is over. 
In addition to the ceremony, local veteran service organizations participated in a resource fair to inform enlistees and their parents of the numerous ways the military community is supported around the world.
"My son served in the Marine Corps for over 20 years. It was organizations such as the Navy-Marine Corps Relief Society, The Red Cross, Fisher House, Navy League, USO and others who were nearby to offer assistance when I was too far away to help him or his family," said Regner.
OCS invites parents of enlistees to stay informed through ocsconnect.org/helpful-links. Anyone wishing to participate next year as a sponsor or community supporter is welcomed to contact Mary Regner at [email protected].